How to PURCHASE?
METHOD 1 - PURCHASE ONLINE
Register
an account and become a member of diyhotspot.com. Add your desired item into the the cart and select " checkout " at your shopping cart (once you are done with your shopping).
Step 1 of 3 - First Check-out page
At this point, you have the option to change your delivery address and select your delivery option. Please note that if you your delivery address is in Miri, you are entitled for free delivery services for free (with no minimum purchase).
If you have any special request, you can put it into word at " Special Instructions or Order Comments " column. Click Continue to proceed.
Step 2 of 3 - Second Check-out page
This is the page where you could see the total amount of your purchase, key-in promotion code (IF ANY), select payment & drop comments and instructions on your purchase.
If your delivery address is in Miri, you have additional option for " C . O . D ", which means you pays only on the delivery. This service is not usable under courier services.
Step 3 of 3 - Second Check-out page
At this page, you have the overview of all the options you just made for double checking before confirming the order. Once you had confirmed all the details are correct, click " Confirm Order " at the below to finish.
METHOD 2 - SEND US YOUR " PURCHASE ORDER "
We understand that some company might need to issue purchase order and we accept that too. We also accept written order by hand as long as the required information is clear.
Send your purchase order to:
Email : enquiry.papel@gmail.com
Fax : +6 085 - 661282
Whatsapp : +6 014 - 6879400
Required Information
Please include the following information in your purchase order:
1. Company Name or Personal Name
2. Address (Please provide the delivery address if address given is not the delivery location)
3. GST ID (If available)
4. Item name ,Item Code & Item Attribute e.g Colour, Size, etc (Refer to the picture shown below)
5. Quantity of item purchase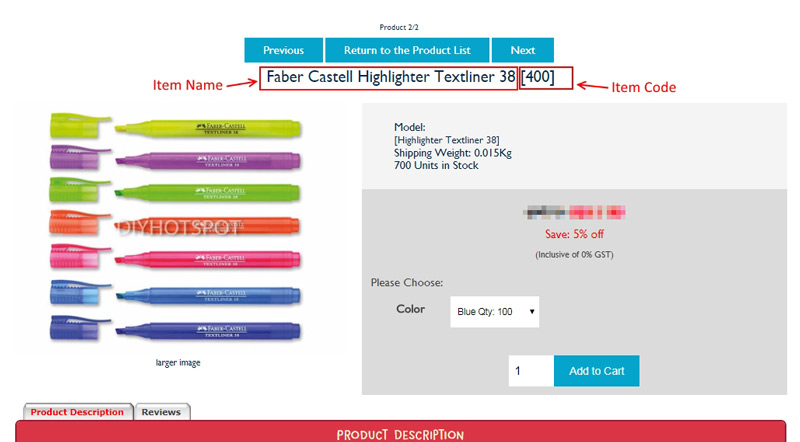 DIY Enthusiast
There are currently no product reviews.